Atlanta Car Accident Attorney
No one is ever prepared to deal with the consequences of a serious car accident. Even a minor injury from a motor vehicle collision can result in exorbitant medical bills, lost wages, and significant discomfort. Cambre & Associates is a team of highly proficient Atlanta car accident lawyers who are dedicated to getting the optimal results for our clients. With decades of combined experience, we fight for the compensation that our clients are entitled to.
What to do if You Were Involved in a Car Accident in Atlanta
As is the case with most major cities, Atlanta and its surrounding areas can be a very dangerous place to drive. No one is ever expecting to get into a car accident, but if you do, you should know what steps to take to ensure a full physical and financial recovery.
Call 911
911 dispatchers are trained to summon the appropriate first responders to the scene. Remain as calm as possible, provide your location, and answer the dispatcher's questions. The average response time for ambulances in the city of Atlanta is approximately 12 minutes for emergency calls, but the police often will arrive sooner. Stay in your vehicle and avoid exacerbating your injuries by moving around.
Allow EMT Workers to Examine You on Scene
If there's any chance that you sustained an injury in a car crash, allow the rescue workers to examine you. They're the best ones to be able to tell you whether you need to be transported to the hospital or whether you can wait to see your doctor. Don't refuse an ambulance ride, even if the accident investigation is still in progress. Crash scene investigators will know where to locate you if they need additional information.
Obtain a Case Number or Police Report
Police agencies operating in the state of Georgia must complete a crash report for any accident involving injuries or significant property damage. Most agencies also require officers to complete a crash report if it's requested by one of the drivers involved in the crash. You may be injured, even if it's a minor crash, so ask the officers on scene for a case number and for them to complete a police report.
Follow Up With Your Doctor
Even if the rescue workers tell you that you're not injured or you're released from the emergency room after rudimentary tests, you may still have latent injuries that could otherwise go undetected. Contact your doctor and schedule a follow-up appointment.
Do Not Admit Fault or Sign a Waiver
Your insurance company may send an adjuster to you at the scene of the accident, the hospital, or your home. It's important to both your physical and financial recovery for you to refuse immediate payment. Until you've been fully examined by medical professionals, there's no way anyone — least of all a claims adjuster — can know what it will take to get you fully healed, how long you will miss work, and the full extent of your injuries. Do not accept payment. Do not admit fault. Do not make a statement until you speak to an attorney.
Contact an Atlanta Car Accident Lawyer
The sooner you have a professional car accident attorney involved in your case, the better the chances at making a full financial recovery. At Cambre & Associates, we provide free consultations for all car accident victims. If we take your case, you won't have to pay any out-of-pocket costs for legal representation. We can also assist you in your recovery by referring you to some of the top doctors in the Atlanta area.
What an Atlanta Car Accident Attorney Can Do For You
Hiring a personal injury attorney to represent you in your car accident case may seem like a tremendous undertaking, but the right car accident lawyer should make your recovery as stress-free as is possible under the circumstances. When selecting an Atlanta car accident lawyer, it's helpful if you understand the role that your attorney will play in your case.
Review Your Case
A professional lawyer will want to perform a cursory review of your case before determining whether or not they should take it. This will include asking you questions about your car accident, a review of the initial police report, and finding out about which injuries you sustained. Keep in mind that this is only an initial review of the case, and it's only a small part of the information that they'll acquire before entering into negotiations with the insurance company.
Provide Legal and Medical Guidance
Your attorney will lay out for you the steps that you'll need to take, not only to receive full financial remuneration, but also to heal from your accident by putting you in touch with doctors and specialists that handle car accident cases. If you select our firm, a Cambre & Associates attorney will answer your questions in a timely fashion.
Represent You in All Legal Processes
Once you're represented by a car accident law firm, your attorney should field all questions from the insurance company. When the company does depose you, your attorney will be there with you to help you avoid legal pitfalls.
Prepare Your Case for Litigation
Most of our car accident cases never see a courtroom. Our attorneys and the insurer are able to negotiate a full and fair settlement for our client without litigation. Should it come to a court battle in your case, however, our team will request police reports and medical records, subpoena witnesses for deposition, and retain the services of expert witnesses for courtroom testimony (i.e. medical experts, traffic engineers, et cetera).
Atlanta Car Accident Statistics
There are many benefits to living in a urban area like Metro Atlanta, but few people would list the traffic as one of them. The counties comprising Greater Atlanta — Fulton, DeKalb, Gwinnett, Cobb, Clayton, Coweta, Douglas, Fayette, and Henry — also have some of the highest accident rates in the state of Georgia.
For instance, in 2015 — the most recent data available from the Georgia Governor's Office of Highway Safety — there were 385,221 crashes, with 19,405 serious injuries and 1,430 fatalities. That year, the Atlanta-area counties of Fulton, DeKalb, Gwinnett, Cobb, and Clayton were the top five in the state for fatalities, with a total of 329 (or 23 percent) of all fatalities for the state.
Unfortunately, both the number of serious injury crashes and fatalities have been on the rise for the state of Georgia. According to the OHS, in 2010, there were 11.17 serious injuries for every 100-million vehicle miles traveled. In 2018, that number had reached 17.63. That's a 57.8 percent increase in serious injuries in just eight years. One of the proximate causes for this increase may be Atlanta's population growth. The population for Atlanta proper in 2010 was 422,849 and 486,290 in 2017. That's a 15 percent increase in population, but that figure is eclipsed by the expansion of accidents with serious injuries.
Car Accident Laws in Georgia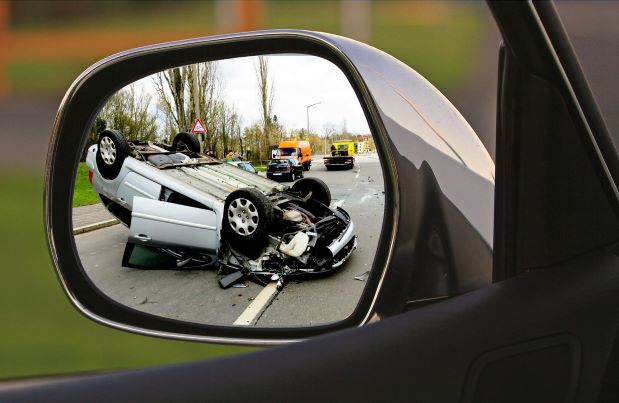 A large section of the Georgia Code is dedicated towards the regulation or traffic, cars, commercial trucks, motorcycles, et cetera. It's not necessary for you to become an expert on Georgia car accident law, but there are some key concepts that you should familiarize yourself with so that you have a better understanding of your case.
Statutes of Limitations
Georgia's statute of limitations are as follows:
Personal Injury – Two years from the date of the crash, regardless of when the injury was detected
Wrongful Death – Two years from the date of death, regardless of when the crash occurred.
Property Damage – Four years from the date of the car accident.
Damage Caps
Compensatory damages are funds awarded based on a dollar estimate of the costs resulting from the accident. Punitive damages are additional damages that are awarded to the plaintiff as an additional penalty against the at-fault party.
Compensatory Damages – No Limit
Punitive Damages – $250,000
Modified Comparative Negligence
Georgia is a modified comparative negligence state, which could impact the amount of the damages that you can seek in court and also reduce negotiated settlement amounts. Under this legal concept, the degree of fault of each party is determined. For instance, if a plaintiff is seeking $200,000 in damages, but the court determines that they're 20 percent at fault, the damages would be reduced to $160,000 (.8 x $200,000).
Types of Damages
Economic Damages
These include anything that has a direct monetary value associated with it, such as:
Property damage
Ambulance fee
Emergency room bill
Hospitalization fees
X-rays, MRIs, bloodwork, et cetera
Physical therapy
Doctors appointments
Lost wages
Diminished work capacity
Non-Economic Damages
These are much more subjective and somewhat conceptual:
Pain and suffering
Emotional distress
Punitive damages
Contingency Fees
In the state of Georgia, it's customary for car accident lawyers to work on a contingency fee basis. That means that they take a predetermined percentage of a court award or settlement. This works in favor of many car accident victims who can't afford the retainers that attorneys in other areas of the law charge. It's important to know what the contingency fees that your attorney is charging before you agree to have them represent you.
What Happens After the Accident?
All car accidents are unique, but they do share some commonalities, and knowing what happens after a car accident can be very instructive when you're trying to select the right Atlanta car accident lawyer for you.
These types of accidents can result in serious neck injuries, contact our team of neck injury attorneys today and get the representation and compensation you deserve.
The Accident Investigation
If you're injured in a car accident, you may not be aware of how involved a police crash investigation can be. Trained law enforcement officers will inspect the damage to the vehicles involved; take measurements of things like the distance the debris travelled from the point of impact, the length of skid marks, and how far the vehicles moved after they were struck; and interview drivers, passengers, and independent witnesses who weren't directly involved in the accident. They may also issue citations, which may or may not have an impact on your case down the road. If anyone appears to be intoxicated, the police will conduct a separate criminal investigation.
Medical Examination
If you've been injured in an accident you may be:
Transported to the emergency room
Examined on scene
Not receive any medical treatment at all
Whether or not you've had a cursory examination, you should seek medical attention immediately. Latent injuries can go undetected. HIPAA protects the confidentiality of medical information, but your attorney can request your records (with your permission) for courtroom testimony, and subpoena other people's medical records if it's germain to the case.
Accident Insurance Company
You may contact your insurer and notify them of the accident, but it's important for you to be careful with what you say and do:
Do not admit fault, even if you think that you're partially or fully responsible.
Do not sign a waiver of liability. Insurers may offer you a check in exchange for your signature on a form that prevents you from making further claims.
Do not make a statement to a claims adjustor before speaking to an Atlanta car accident attorney.
Car Accident Lawyer Involvement
When you contact Cambre and Associates for your free initial consultation, we will review your case and whatever information you have at the time. If we represent you, all communications with your insurers will come through our office. Additionally, we can make recommendations as to the best medical care providers for your recovery.
It's essential that whichever car accident law firm you choose gets involved in your case as early as possible. The more time that we have to work with you and begin negotiations with your insurer, the better your chances of receiving full compensation.
Click here to learn more about our practice areas.
FAQ About Atlanta Car Accidents
The following are questions that many of our clients have about car accident representation in Atlanta and the answers to those questions.
What if I didn't make an accident report at the time of my crash?
While it's ideal to make an accident report with the police, not making one right at the time of the crash doesn't negate your claim. Your injuries may not appear until days later. You should, however, make a delayed police report immediately.
If I'm responsible for the crash, can I still recover damages?
Your personal injury insurance protection (PIP) covers you and your passengers, regardless of fault. But before you decide that you're responsible for an accident, you should talk to a professional car accident lawyer. They may have a different perspective.
If I'm not hurt, should I still make a police report and get checked by a doctor?
You may not know if you're hurt for days or weeks after your car accident. Getting a police report alone shouldn't affect your insurance (unless you also make a claim). It's always a good idea to have your doctor examine you after an accident, even if it's just to confirm that you're healthy.
What do I do about all of my medical bills?
Most people don't have a huge cash reserve to deal with mounting medical costs. When a car accident attorney takes over your case, however, they can field questions from doctors offices and hospitals as they negotiate your settlement.
Can I afford a car accident lawyer in a city like Atlanta?
At Cambre and Associates, we offer free consultations and work on a contingency basis. There are no upfront costs. We only get paid when you do.
How long will it take for me to get compensation for my injuries?
The time length of settlement negotiations depends on a number of things: the strength of your case, the severity of your injuries, how motivated the insurer is to settle, et cetera. That's why it's essential to get the process started as soon as possible.
Car Accident Lawyers in Atlanta
Cambre & Associates is a top-rated Atlanta law firm with a dedicated team of car accident attorneys. We have successfully represented scores of car accident victims, and have garnered large settlements and court awards for our clients. If you've been injured in a car accident, seek medical attention and contact us today for a free consultation.